TV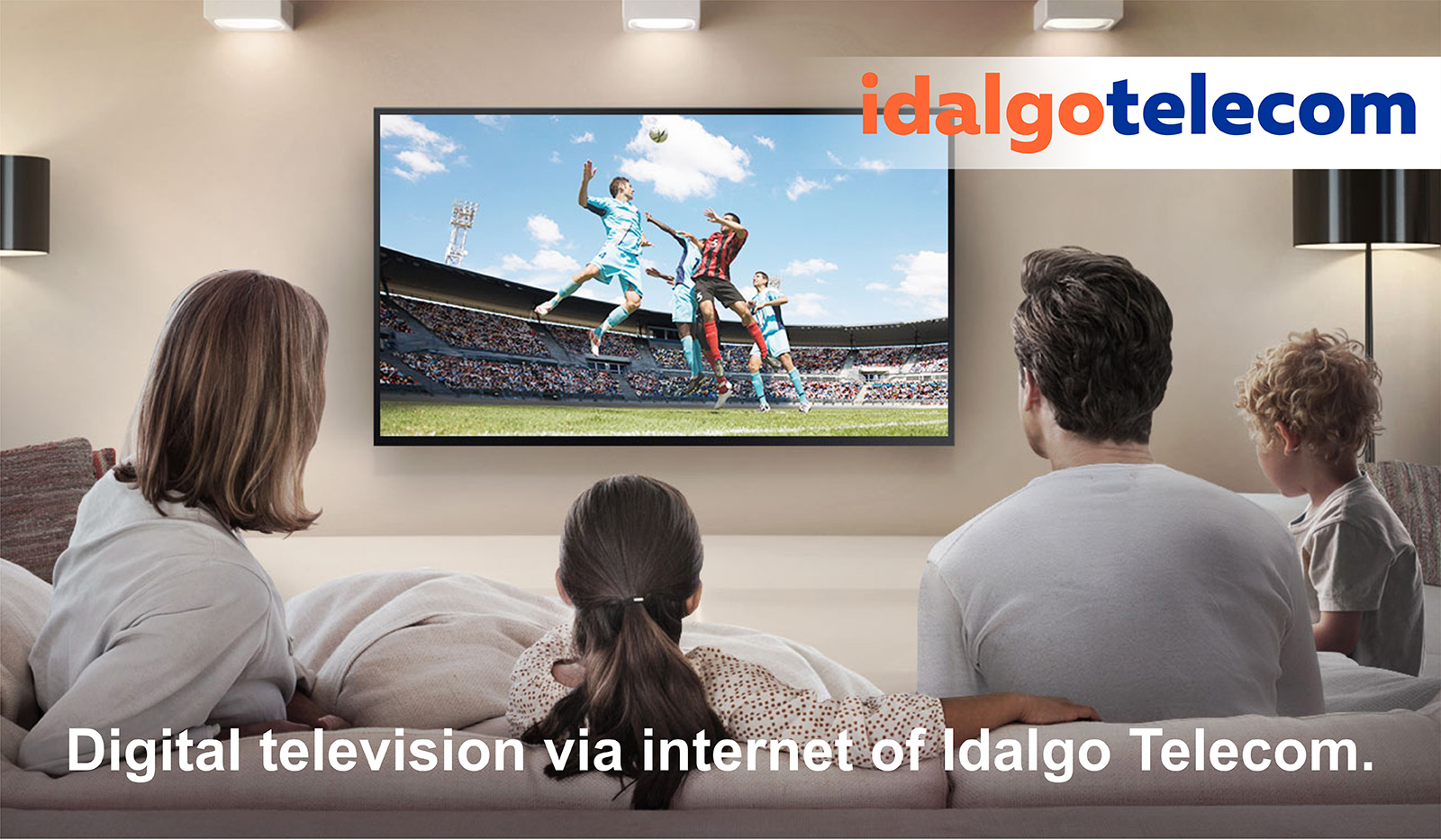 TV – Digital television via internet of Idalgo Telecom.
With interactive television, you can watch your favorite programs, movies and TV shows on big screen even if you do not have Smart TV. You just manage the applications with the remote control, as usual.
See all the channels in our full
channel's review
.
Activation of a subscriber (one-time expense, incl. delivery costs) € 19.00 incl. VAT
How to connect Idalgo Telecom TV?
For new customers:
To request the internet and television just fill in the form below:
The TV box will be delivered to your place. Connect your TV box to internet, fill the log in details and enjoy digital TV. You can also download free App for TV and log in with the same data on each device (Smartphone or tablet).
Enjoy your wireless internet and modern digital television on each device!
Watch your wireless TV with Idalgo Telecom.
You need only internet connection for Idalgo Telecom wireless TV. No cable connection needed.
The suggested television package can generate a relatively high traffic, so fast connection is preferable. A good quality television image requires a bandwidth of at least 6 Mbps. But we have good news for you: we can provide our fast wireless Internet even in the remote location! Even if you don't know exactly what you need for your future wireless TV Idalgo Telecom provides everything you need for wireless television on any device (Wi-Fi router and TV box for rent, TV application). You will not have unexpected expenses or additional costs. We provide a complete wireless TV service for you. Your wireless TV will always work regardless of the type of TV (Smart TV or not) or tablet / laptop / smartphone you have.
To watch Idalgo Telecom wireless television you need to connect Idalgo Telecom. The subscription includes Idalgo Telecom Internet and television and fixed telephony if required. With your subscription you get a Wi-Fi router for free and a TV box for rent, as well as a TV application for free. We provide a TV box for free rent, because it is better for you, regardless of whether you have a Smart TV or not. The receiver should be connected to the TV using an HDMI cable. Your Smart TV can be connected to our receiver via Wi-Fi, as well as via Internet cable. A TV box is acquired for the entire duration of the contract.
However, you do not need a TV box to watch wireless TV from your Smart TV, smartphone, tablet or laptop. You do it with television App. This solution works great. Using the application, you can watch wireless TV anywhere in your house and also in your garden on vacation! Due to to our wireless fast internet, TV receiver, TV application and 40 TV channels of the basic package, we guarantee that everything works without breakdowns and you can watch wireless TV on any device without any problems.
Why Idalgo Telecom wireless TV?
Internet connection is quite enough to watch wireless TV everywhere: at home, in the garden, in the car, at a party!
You can watch wireless TV on multiple TVs / devices.
You can pause, record and watch live TV shows.
A list of 200 channels on request.
The number of channels can be expanded. Additional television products may be adjusted every month.
No unexpected expenses.
Nice and easy to use.
It can be used on any device: your TV, Smart TV, phone, tablet or laptop.
Coaxial cable or telephony is not required.
You can get rid of the ugly cables in your home with our wireless TV.
When you watch TV, you use the TV remote control, just the way you got used to!
You can cancel your current TV subscription. No more expensive TV subscriptions from your current TV provider!
With our TV box, you can watch wireless TV with excellent HD picture quality on your television application.